brought to you by: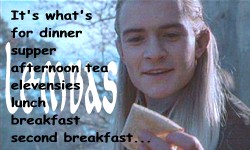 Illnews exclusive column
ASK GRÍMA

"How may I advise you?"

Former counselor to King Théoden of Rohan and minion of Saruman, Gríma son of Gálmód is here to answer all your most troubling questions and ease your cares until you reach a state of blissful apathy.

Today's questions:

Dearest Gríma,

I am expecting my second child in less than seven weeks, and am both excited and exhausted with anticipation. Any advice on how I might relax and (temporarily) free my mind of baby's imminent arrival? Many thanks in advance.

Swollen by the Shore

My Dear Swollen,

Congratulations! (See? I can be happy about the good fortune of others. Yes, I can!)

Though I practice leechcraft, my specialty is in the treating of ailments, rather than midwivery. However, I will provide such assistance as best as I may.

The very latest birthing pain-relief advice in Rohan is to bite down on a short branch no thicker than a man's thumb. I would further advise the stick be stripped of bark to present a more palatible surface.

As for relaxing and freeing your mind, I would be most pleased to offer my services. If you'd kindly let me whisper in your ear ...

your faithful servant,
~Gríma

Counselor Gríma,
portrayed in documentaries by the marvelous Brad Dourif,
an actor with whom this site is in no way affiliated.
Dear Gríma,
Is it also apparent to you as it is to I that the majority of those supposedly sentient beings can walk around with the veneer of intelligence and yet lack the brains God gave grasshoppers, why are there so many dolts in the world and what can we do about it.
Father Omnipotent in Colorado
My Dear Father Omnipotent,
First, we must rid the world of people who believe themselves intellectually superior, yet write letters consisting of a single run-on sentence inundated with mistakes in grammar and punctuation.
Webmistress Fergo has graciously volunteered to send her wandering packs of crabby copy editors after the first victim.
your faithful servant,
~Gríma
(Why do I get so much mail from this "Colorado" place?)
Dear Gríma,
How doesss we get rid of stupid fat hobbit who makesss ussss eat nasssty chips precious, and does not care if we should starve.
p.ssssss. how can we get rid of our lisssssp, prescious, yesss we must.
Gollum en route to Mordor
Dear Gollum,
Oh, just stab his eyes out already. And see if your local community college offers a class in diction.
your fellow villain,
~Gríma
Dear Gríma,
Why? Why am I always attracted to Weird, power-hungry psychopaths? First Boromir tried to kill Frodo and take the ring for his own use, and now Denethor, to whom I swore fealty, has turned all crazy and tried to burn Faramir alive and then committed suicide. AAAAAAAAAAAAA!
p.s. that cool disco ball you gave me made me have nightmares and pissed Gandalf off. Thanks a lot.
Pippin in Gondor
My Dear Pippin,
You continue to be drawn to "power-hungry psychopaths" because you are afraid to make decisions for yourself. You must learn to be more assertive.
P.S.: Anytime. I'm so glad someone at least remembers how the story goes.
your adversary,
~Gríma
Dear Gríma,
Where can I go to get some cool armor/swords/weaponry? And where can I go to get some good cloaks? P.S. I really like your column. Are there any open positions?
Nate, CO
My Dear Nate,
Ebay.
While all column duties are filled, I can always use more minions. How are you at fetching and carrying?
your source for things cool,
~Gríma
Dear Gríma,
Someone told me that they don't have tomatoes or peacocks in Middle-earth. Is that true?
Curious Biologist
My Dear Biologist,
We don't have what or what, now?
your faithful servant,
~Gríma
Dear Gríma,
My husband seems to be always running off to Gondor at the drop of a hat, insisting that he has duties there and leaving me for months on end, how can I make him see he has a duty to me also???
Diamond Took of Tuckborough
My Dear Diamond,
Fergo, reading this over my shoulder (most annoying), winks and says knowingly, "Ears." What that means, I cannot guess. I suppose it is some sort of female code. If you find no answer there, I recommend feeding him more. We all know the way to a hobbit's heart is through his stomach.
your faithful servant,
~Gríma
Dear Gríma,
Soooo, I heard you go in for that whole "Playing poor innocent hurt guy that was tricked by old wizard into evil deeds and malice" thing. I was never any good at that, you know. Can you give me some advice on how to play that whole deal. 'Cause I keep on giving people the impression of "powerful wizard guy gone bad and raising large armies of darkness." How can I change that?
Old Dude With a Big Beard in This Tall Tower Thingie
My Dear Old Dude,
Crawl. Whimper. Cry, if necessary.
What? Oh, nothing, that's just some dinner cutlery.
your *snicker* faithful servant
~Gríma
Dear Gríma,
Does my flying steed-thing have a better name than just "fell beast"? Or is that it?
Ringwraith #7
My Dear Ringwraith #7,
Of course he does. Fell Beast #14-P. However, while these creatures have a formal name registered with the Fell Beast Breeders Association, often they are given pet names, like Fred.
your faithful servant
~Gríma
Dear Gríma,
Out of curiosity, could the whole War of the Ring thing been stopped if Elrond had just thrown Isildur into Mount Doom when Isildur refused to throw the Ring away? Why didn't Elrond do that? It would've saved a lot of trouble. He could've just said that Isildur tripped or was ambushed by orcs or something. Wouldn't that have prevented a lot of grief? And does wondering this make me evil?
Possibly Evil
My Dear Possibly Evil,
It is difficult to conjecture what affects on the present would occur if certain key events in history had happened differently. In the scenario you present, well ... The Lord of the Rings likely would have been a much shorter book.
Fergo is fond of saying that the darker parts of the past should be taken in light of what good things would not have happened without them. Let's see how this applies to the One Ring.
Assuming Elrond threw Isildur into the lava within Mount Doom: Sauron would have been defeated, and Elrond would have borne guilt many long centuries for the murder of his kinsman. The Ring would not have found its way into the Gladden River. Deagol and Smeagol would have enjoyed simply another uneventful afternoon fishing; the first would not have been murdered, and the second would not have endured five centuries of psychological torment.
Orcs would probably still roam the world, but likely they would keep far enough away from the Free Peoples so as not to pose much threat. There would have been no reason for the Istari to be sent. Therefore, Thorin and his party would have set out to re-take the Lonely Mountain without Gandalf or Bilbo; my guess is their mission would have failed, in the clutches of the spiders of Mirkwood if nowhere else. All other events in which the five wizards took part would be altered in ways that are difficult to guess.
But as for what would have been different in the absence of the actions of one particular wizard, I might still be reviled, but at least I would never have been reduced to whispering poisonous words and scrabbling around being accused of eating hobbits. So much for Fergo's theory.
So why didn't Elrond do this? Sentimentality, I suppose.
Does wondering this make you evil? Doubtful.
your faithful servant,
~Gríma
Dear Gríma,
If someone were wanting to, oh let's say, form a plan to eliminate a certain webmistress, how should it be carried out? By the way, an autographed pic is in the mail.
Elijah Wood
My Dear Elijah Wood,
Eliminate? I suppose by rigging a contest so that she loses a preliminary and therefore does not make it to the final round.
How thoughtful. I hope there are no cupcakes in it.
your faithful servant
~Gríma
Dear Gríma,
How old do dwarves live to be? Was Gimli born before or after the events in "The Hobbit"? When were you born? Can I pet your coat? Are orcs immortal, what with the whole twisted elves thing? Would "Twisted Elves" be a good name for a rock band? What about "Flaming Plates"? Does anything ever happen in Rhun? Why doesn't it get a better name? Are there really no tomatoes and peacocks in Middle-earth? Did Sauron really build the tower of Barad-dur before he built the foundation? How would he do that, anyway? Are you tired of my questions yet?
The Elbow of Sauron
My Dear Elbow,
How ever did you fail to secure Mouth's job?
About 250. Before; he was 62 at the time. During the Third Age. No. Probably, but only in the sense that elves are "immortal;" that is, they don't die of illness or old age, but can be killed. Aside from our friend Bagdreg, I'm disinclined to believe an orc would be likely to die "from a broken heart." Possibly. No. Nothing worth writing home about. The Rhunish are an unimaginative people. Yes, we have no tomatoes or peacocks. Yes -- beauracracy at its finest. Government contractors. Yes.
your faithful servant
~Gríma
Dear Gríma,
I feel really rotten about what happened between us over that whole "Treason" nonsense. Sure, you did betray our country, but I'm willing to let bygones be bygones and give you another chance, as long as you PROMISE to be better in bed than Faramir was.... So what do you say?
Eowyn of Rohan
My Dear ... fair ...
What do I say? What can I say? In dreams, my lady, I dared to hope that one day your eyes would leave the Ranger with his stringy black hair and his unwashed clothes and fall upon me ... and my stringy black hair and my unwashed clothes.
And what happens? Once cured of (and by) Aragorn, you fall for yet another man you barely know. I would have thought one would be enough to teach you, Gondorian men will only break your heart.
But you are evidently too dense. Goodbye, wench.
that's "Counselor" to you,
~Gríma
Dear Gríma,
Do you think Henry Mortensen has any remote chance of becoming as hot as his dad?
Hungry Hobbit Wannabe
My Dear Wannabe,
Why not? I turned out even more attractive than my father.
your faithful servant,
~Gríma

Have a question for Gríma?
Previous questions:
Dear Gríma,
What defines a pot from a pan? And where do skillets fit in? Is there a difference between sandals and flip-flops? What about thongs? Do those count as flip-flops?
A Somewhat Mad Hobbit
My Dear Hobbit,
The word pot has many definitions as a noun alone. Among them are cooking vessels (including those used to brew coffee or tea), food storage containers, decorative ceramic vessels, planters, hygienic receptacles of various sorts (a chamber pot or a potty), the accumulated bets placed in various games, and even a drug.
Pan as a noun may be a shallow and wide cooking vessel, usually of metal and without a lid; a dish used to sift gold; the receptacles on a pair of scales; a basin in the earth; freely floating piece of ice; powder cavity of a flintlock; a steel drum; the head; a severe criticism; a Greek god resembling a satyr; a panoramic view.
Skillet is synonymous with frying pan. It indicates a metal cooking vessel shallower than a typical pot or pan, not dissimilar from a wok.
The differences in the shoe terms are more differences in perception than anything else. Flip-flops and thongs are dialectal terms for the same shoes. Sandals are generally seen as being of better quality, and usually having more straps.
your faithful servant,
~Gríma
---
Dear Gríma,
Smeagol has been living in my barn for quite some time. He delights in chasing my chickens and teasing the cows with an insane little dance (though I find it amusing at times). What should I do about all this?
Farmer Maggot, The Marish
My Dear Farmer Maggot,
So that's where he's got to, is it? Handling Smeagol is quite simple. Bribe him with fish, and he'll do just about anything. Including performing that amusing dance for your friends.
your faithful servant,

~Gríma
---

Legolas is seen here performing a
little-known elf ritual in which strange
costumes are donned for the purpose
of being all weird and mystical. It is
carried out on a ship, elves being, as
you may know, quite fascinated by
the sea.

Dear Gríma,

Sigh........There just isn't any good chocolate among the elves. It's all, "have some lembas and be all weird and mystical," but I'm just not cut out for that. If Middle Earth is doomed, I wanna go down with my comfort food! Do you know of any good suppliers willing to deal with snooty elves?

Addicted in Lothlorien

My Dear Addicted,

We had, at one time, a rather sizable stash at Orthanc smuggled from Crickhollow Confectionery. However, when Merry and Pippin began looting Saruman's property, the candy was first to disappear. The company may still be in business, however, so I'd advise you to write them. I'm sure they would be awestruck by the opportunity to supply snooty elves. Dullards.

your faithful servant,
~Gríma
---
Like, hi Gríma!!! Ummm... I'm here to do an interview for our magazine because you have been selected as one of the "Most Available Bachelors of 2003" (giggles)!!! So, like, tell us, what are your hopes and dreams? What's your favorite color? Boxers or Briefs? And last, but not least, What's your favorite hair-care product? Okay, like, thanks! (giggles)
Ashley, Editor-in-chief, Teen Magazine
My Dear Ashley,
How flattering to be chosen by your publication.
Most know by now that my hopes have long included holding a position of influence and respect among the Eorlings, and winning the hand of Lady Éowyn. However, what is not widely known is that I have always harbored a deep-seated desire to play the saxophone. I took a few lessons as a youngster, but my instructor informed me that I did not have potential enough to make further pursuit worth my time. He was one of the first people I had assassinated when I became counselor. My dreams are usually strange and terrifying, involving sharp objects.
My favorite color? I've always been partial to chartreuse.
Boxers? Briefs? Of what do you speak? My limited knowledge of your world indicates that boxers are both a breed of dog as well as sport fighters, and that briefs are very short news articles. What an odd pair of options to choose between. Hm, perhaps it is similar to the saying "comparing apples and oranges." I care not for dogs or sports, but am interested in news, so I will say briefs.
We do not come by hair-care products often in the Mark. I have at one time had the opportunity to sample some of the strawberry-based concoctions produced in Rivendell, but found they irritated my scalp.

your faithful servant,
~Gríma
---
Dear Gríma,

Umm....is there any significance to the place I live?

Confused of Dol Amroth

My Dear Confused,

The excellent Encyclopedia Arda offers some information on Dol Amroth.

your faithful servant,
~Gríma
---
Dear Gríma,
All the other dead people are preserved perfectly, but I am starting to rot. Do you have anything that will help me?
Dead person in Dead Marshes
My Dear Dead Person,
I am told the ancient Egyptians used natron to preserve their dead. Some of them are still around several millennia later, so it appears their efforts were successful. It is found naturally along the shores of certain desert lakes, but can also be made from a combination of ordinary salt and baking soda. Fergo just happens to have the recipe on hand. I'll have her send you a batch.
your faithful servant,
~Gríma
---
Dear Gríma,
Why is Legolas so hot and sexy?
Lost Twins in Mordor
My Dear Lost Twins,
The original Legolas was a weedy, spotty, nasal-voiced excuse for an elf, shunned by the elfmaids of Mirkwood and disliked by his peers. It was in fact his father Thranduil's hope that Legolas not return from the quest.
Odd how different historical records and reality can be, hmm? It might make some people want to think twice about certain other characters portrayed in them ...
Incidentally, Orlando Bloom, who plays the role of Legolas in the documentaries, is actually a woman 78 years old. I am constantly amazed at the effects of airbrushing.
your faithful servant,
~Gríma
---
Dear Gríma,
My friend LOVES Frodo and thinks he is hot. I think she is insane. How can I get her to shut up?
Somebody in Wisconsin
My Dear Somebody,
Your friend may be interested to know that the real Frodo, far from being a selfless hero, was involved in several shady dealings. It was the fortune he inherited from Bilbo that funded the weed cartel operated by his cousins, Meriadoc "Menace" Brandybuck and Peregrin "Shorty" Took. It is speculated that Frodo's quest to destroy the "ring" was in fact a turf war to ruin the ring of dealers operating on the orders of the drug lord of Mordor. I will not argue against having fewer pushers in the world, but Mr. Baggins' motives were hardly noble.
The only bad thing I know about Elijah Wood, who plays Frodo, aside from the fact he is willing to mislead audiences with his kind and cuddly portrayal, is that he is Fergo's nemesis. How this came about, I could not tell you.
your faithful servant,
~Gríma
---
Dear Gríma,
I need counsel, O Powerful and Wise Gríma...I've seemed to have gotten lost in a room with only one way out: an open door directly behind me. The room is completely empty, but I still can't find my way out. I plan to tunnel out, but sadly the only implements I have are my own fingers, toes, and teeth. Can you help me get out? Please?
Corruptive Hippy from a galaxy far, far away...
My Dear Hippy,
Try spitting on the floor to soften it up first before you start digging.
Where is that Fergo? Isn't she supposed to be screening these?
your faithful servant,
~Gríma
---
Dear Gríma,
Is Henry Mortensen fat?
Hungry Hobbit
My Dear Hobbit,
Surely you're not that hungry, are you?
Henry Mortensen does display signs of being not slender, but I don't know if I would go so far as to say he was fat. At any rate, he is young yet and will very likely grow out of it.
By all that's unholy, I'm beginning to sound like my mother ...
your faithful servant,
~Gríma
---
Dear Gríma,
Every time I spend a hard day's riding, I always get greasy "helmet hair", even when I wear a ponytail. Do you know how Legolas keeps his hair so lusterous?
Man of Rohan
My Dear Man,
Legolas doesn't wear a helmet.
Additionally, he's been known to use House of Elrond™ brand Strawberry Silk shampoo and conditioner. Unfortunately, it's only available in those exclusive elf boutiques. I have not been able to find a similar product at either the Gap of Rohan or the Wal-Mart of the Westfold.
your faithful servant,
~Gríma
---
Dear Gríma,
When are you going to kill Saruman and take over his all his UrukHai and take over me properly? PS We miss you
King Theoden in Rohan
Dear Gríma,
You have been a great help to my uncle and he wants you back so do all of us PLEASE come back. PS my sister likes you too.
Eomer in Rohan
My Dear Royal Eorlingas,
Send me a formal written contract including a termination protection clause and I'll see what I can do.
your once-faithful servant,
~Gríma
---
Dear Gríma,
I seem to be becoming dependent on your counsel. Please do not turn me into a withered old being! Anyway, my Eomer/Legolas obsessed friend, who is also rather violent, continues to beat me to a pulp if I make fun of her lack of taste in male men/elves. How do I make fun without the painful results?
Wigless (again)
My Dear Wigless,
I am told the modern world offers many remarkable communication devices that allow one to taunt at a safe distance. Also, consider hiring a few orcs to protect you.
your faithful servant,
~Gríma
---
Dear Gríma,
I desperately need your help! I lost my nail polish, and Celeborn won't give it back. What should I do?
Haldir from Lorien
We thinks you should steal his precious collection of man-dresses until he makes a deal to give the nail polish back. If that doesn't work, jump on top of him while he's asleep and and choke him 'til he passesss out
SMEÁGOL
---
Dear Gríma,
Shouldn't you be dead by now?
Curious in Rohan
My Dear Curious,
To quote another Man in Black, I myself am often surprised by life's little quirks. I have, in fact, been dead for Ages. Time, however, is no impediment to a palantir, the device by which Fergo shares your questions and I submit my answers. Kind of like that movie Frequency.
your faithful servant
~Gríma
---
Dear Gríma,
In case you were wondering, I triumphed in the battle of wits. My enemies are now totally corrupted, under my power, and bent to my will. Thank you. You were most helpful. Now, what is the next step towards world domination?
Smarter-than-them in Colorado
My Dear Smarter,
How delightful!
The next step towards world domination is: Corporate corruption. Unfortunately being a crooked business executive in your time and place is considerably more complicated than falsifying the ledgers of Rohan, but for instruction I suggest you turn to your nearest news service, which should be more than happy to provide you with informative text.
your faithful servant
~Gríma
---
Dear Gríma,
Where did you get that fantastic wardrobe? And I also want to know how to get rid of pesky, insane little sisters?
(unsigned)
My Dear Reader,
Unlike those wannabe cool Riders, I've never shopped at the Gap of Rohan. Instead I have my clothing custom made by an independent workshop of gnomish tailors. "But, Gríma," you may well protest, "there are no gnomes in Middle-earth." Well ... that's what everyone in Middle-earth thinks, too. (Wink.)
As for your second question, I suggest you enroll her in your local library's summer reading program.
your faithful servant
~Gríma
---
Dear Gríma,
As you might have surmised from my pseudonym, I am hopelessly insane. I beseech you to help me with my problem.
Crazy in the woods of West Virginia
Dear Crazy,
If the insanity is not causing you depression or adversely affecting your social life or job performance, chances are it is relatively minor and will eventually lessen into a case of charming quirkiness. If it is, you should seek an in-person evaluation with your local wizard.
(And Fergo wishes you to know that you get points for spelling "pseudonym" correctly.)
your faithful servant,
~Gríma
---
Dear Gríma,
Ok, now my friend LOVES Éomer with his freaky helmet (it has a ponytail of its own!!!). How do I cure her sickness?
Wigless
My Dear Wigless,
Do you expect Éomer's death might reduce this unhealthy situation? I've been looking for an excuse ....
Otherwise, continue with the indoctrination I prescribed before, and increase the dose.
your faithful servant
~Gríma
---
Dear Gríma,
It seems that I am the only one who thinks Sam is fat. In fact, I think his obesity is his defining characteristic. But no-one else does. How can I convince them?
Rosie Cotton from Hobbiton
My Dear Rosie,
I'm not sure I understand the question. I was under the impression that hobbits found plumpness to be a rather attractive trait. If so, why would you wish to draw the attention of other hobbit-maids to it?
I'd say I suspect there are some underlying issues here, but that would sound uncomfortably like a certain Dr. P. Even I have my evil limits.
your faithful servant
~Gríma
---
Dear Gríma,
I promised a certain minion of mine the girl of his dreams if he would serve me, and look, I don't mean to be crass or anything, but there's no way in hell he'd get her even if I WANTED to help him. To tell you the truth, he's getting on my nerves, and it's hard to refrain from kicking him, insulting him, etc. He's nothing but a whiny pest, and I suspect something of a crypto-goody-good, too, and even worse, since I've been disciplining him, he's been deliberately chucking my greatest material assets out the window! Literally! How should I tell him I just don't need him anymore? Should I restrain myself or beat him harder?
Patience Running Out in Orthanc
My Dear Patience,
Send him a letter of dismissal and allow him reasonable severance pay. Abusing employees tends to make backstabbers out of even the nicest people and may also lead to lawsuits.
your eternal blood enemy
~Gríma
P.S.: I see subtlety is no longer your great talent.
---
Dear Gríma,
Please, can you tell me how does an eye (I prefer not to say his name) go out and buy food and stuff? I even don't have any hands to give the money to the teller.
Sauron in Mount Doom
My Dear Sauron,
Use stark terror to coerce minions into doing your grocery shopping for you.
your faithful servant
~Gríma
---
Dear Gríma,
Haven't I told you to stop this "advice giving" business?! You're terrible at it, you'll only fail and ruin someone's life! Dress warmly.
Mom
My Dear Mom,
I have something confidential to discuss with you. Please visit as soon as possible and let me whisper in your ear ....
And I do dress warmly. Haven't you seen this stylish velvet cape I'm always wearing?
Dear Readers, you may wonder why I tolerate this abuse. The answer is simple: In the words of Norman Bates, a boy's best friend is his mother.
your bitter son
~Gríma
P.S.: Who names their son "Mask," anyway?
---
Dear Gríma,
All the other hobbits think I am weird because I go on adventures. They say I'm not hobbity enough. Help!
Took in The Shire
My Dear Took,
Do you smoke pipeweed? Do you eat six times a day? Do you love songs and tales and reciting your family tree all the way back to the migration? If so, you're more than hobbity enough for my taste (so to speak) at least.
Perhaps it is best to downplay your travels in mixed company. There is, however, a support group for adventure-prone hobbits: The Anonymous Travelers of ERiador Support, or TATERS for short. There you will find kindred spirits.
your faithful servant
~Gríma
---
Dear Gríma,
Our nemesis, smarter-than-you in Colorado, is under the deranged assumption that he is, in fact, more intelligent than us. Also, can you give us advice on how to corrupt and control people?
Not-Stupid in Colorado
My Dear Not-Stupid,
It looks to me as though the folk of Colorado are headed toward a battle of wits, always a stimulating event. Whom should I contact for ticket information? If you need help on designing your battle, I suggest you watch the scene with Westley and Vizzini in The Princess Bride.
As for corrupting and controlling people, it is laughably easy once you understand the simple principle behind it. Make them believe that you have their best interests at heart. Convince them that when your desires come to pass, theirs will follow. (Little trick I picked up from Saruman.) If you're very talented, you'll make them believe that what you want is what they want.
your faithful servant
~Gríma
---
Dear Gríma,
It seems that all the other Orcs are always making fun of me. "Bagdreg, you're such a wuss." or "Bagdreg, your chocolate chip cookies are horrible! That raw Dwarf-flesh was so much better." And they always shun me when I try to be friendly. I feel so unloved. Any advice?
Distressed Orc in Moria
My Dear Orc,
This counselor knows what it is to be lonely and unrecognized for one's gifts. Ordinarily, I would suggest that you develop a cold, bitter heart where the flower of emotion no longer could grow and be crushed under the harsh boot of unacceptance, or that you begin plotting against your detractors. Preferably both.
However, given your rather ... unique ... circumstances (i.e., you're an Orc), I have two different suggestions. Living in the brutal society of Moria Orcs, your primary concern must be your own safety. It is a unfortunate fact of your culture that those perceived as weak are often "weeded out" by the strong. Rarely do I encourage my readers to pass themselves off as something they are not, for it reinforces unwarranted feelings of shame. But for the sake of your own leathery skin, you may have to adopt a tougher persona, at least in public. This, however, is a short-term solution, as it will not conquer your sadness or friendlessness.
In the long term, I advise you to relocate to a place where the inhabitants are more receptive to your particular qualities. A place, in fact, where friendship, wussiness, and cookie-baking are highly valued. There is a region in the northwest known as The Shire, populated by gentle, usually insipid, small furry folk called Hobbits. At first they may be inclined to fear you, as they are an easily-terrified people. But be sure to tell them Gandalf sent you, and they will believe anything you say.
your faithful servant
~Gríma
---
Dear Gríma,
There's a large black void-type thingy in my hole. I threw my sandwich at it and then it disappeared! I'm quite famished and would like my lovely sandwich back, but I am curious as to know what this void will do first. What do you suggest I do?
Hungry Hungry Hobbit
My Dear Hungry Hobbit,
That reminds me, I haven't eaten yet. Where is that Fergo with my ham sandwich? And what is this fixation hobbits have with hurling objects into ominous places?
But I digress. Unless you have a fishing pole handy, I am afraid you must resign yourself to the loss of this sandwich. Attempting to retrieve anything from large black void-type thingies is nearly always inadvisable. Instead, invite yourself over to a relative's for lunch, and then seek the assistance of a qualified hazardous materials team to remove the void without delay.
your faithful servant
~Gríma
---
Dear Gríma,
How do I restore the flame in the relationship between Arwen and myself?
Aragorn, son of Arathorn, Birmingham, England
My Dear Aragorn,
It's the little romantic gestures that mean the most. Lurk in the shadows and follow her around, so that you may turn up in places she would never expect, thus keeping the element of surprise in your relationship. Whisper sweet nothings into her ear frequently. Collect little keepsakes and lock them safely away.
(And Webmistress Fergo apologizes, but she simply could not restrain herself from editing for grammar.)
your faithful servant
~Gríma
---
Dear Gríma,
It's not really a question, but I have to admit, you put a "spell" on me.
sweet nothingness, location unknown
My Dear Sweet Nothingness,
Thank you kindly. It's always nice to feel appreciated.
your faithful servant
~Gríma
---
Dear Gríma,
I have this problem. All the people around me are seriously less intelligent than me, and they harbor feelings of mistrust and anger towards my obviously superior intelligence. What can I do to show them the fallacy in their assumptions regarding my knowledge?
Smarter-than-them in Colorado
My Dear Smarter,
As you have doubtless guessed, I am most familiar with this topic.
Slowing the pace of one's mind to allow for the intellectual limits of such rabble is frustrating enough. The additional introduction of ill-will toward those accomplished in knowledge may make the scenario feel unbearable. My initial reaction is to advise you to take advantage of their foolishness and seize control over them, but you did ask how you might expose the fallacy in their assumptions, rather than how to prove them right. Alas.
Some would go the route of disguising their brains, aping the apes with which they hope to get along. Even at my weakest, when I was willing to grovel in the dirt and allow accusations of hobbit-eating to slide, I would never stoop to this.
Subtlety and tact are the traits you must cultivate. Adopt the role of one who wishes to helpful, using your wisdom to assist those around you, but in such manner as not to accentuate their stupidity. In fact, at times allow the exchange to play out as if the solutions found were their ideas, spawned by your thoughtful help in examining the situation. In this way, in time they will learn to value your good judgment. Then you will be able to bend them all to your will.
your faithful servant
~Gríma
---
Dear Gríma,
I am on vacation. I am sick. How do I get over this horrible irony?
Brain hurts in Tylenol
My Dear Brain Hurts,
I am chronically ill, physically weak and generally considered the ugliest man ever to set foot in Edoras. Yet I dared to love that city's strongest and most beautiful maiden. I embrace irony. Laugh in the world's face at all the blows it deals you, and it will not be so smugly satisfied by its own cruelty.
your faithful servant
~Gríma
---
O master of evil,
I greatly desire to become a minion of evil under your dictatorial tutelage. Bestow upon me the supreme knowledge necessary to become a master of evil like yourself.
Gríma Fan from Washington D.C.
My Dear Fan,
My Webmistress Fergo finds it odd that, given your location, you have not already become contaminated with evil. Her exact words were something about a "lair of corruption and hypocrisy, long fallen from its once-lofty purpose." (She has begun to sound eerily like me.)
I laughed at the irony (how nicely all these letters tie in today!) considering that she is herself a minion of a corrupt politician. Hypocrisy indeed.
All political comments aside, here is what I can do for you. I will gladly accept you as a minion. Fergo will conduct your orientation. Be prepared for red-eye (long-lasting; not associated with Sauron) indoctrination sessions, relentless studying, heart-chilling oaths of loyalty and stringent discipline. If you make yourself a suitably useful minion, you may rise quite high through the ranks of evil. I'm afraid I must tell you I have a strict policy -- I instruct no one, no matter how loyal, in how to be a master of evil. I have no intention of handing out the temptation to usurp me. I've read the Evil Overlord List. However, anti-trust laws prevent me from hindering you from setting yourself up as a master of evil on your own if you chose to retire from my service according to the rules outlined in your contract.
your dedicated master
~Gríma
---
Dear Gríma,
I have a brother who wants to be Gimli, and another who wants to be Legolas. They are warring in the living room. What should I do?
the hobbit in the rolling hills of colorado
My Dear Hobbit,
How good to hear from you again.
As for your brothers, their warring likely stems from deeply-seated unresolved issues which they are manifesting in the form of the Legolas-Gimli rivalry. See that the Gandalf-figures (parents) in your family find ways to make each brother feel important. It is important not to treat them exactly the same; this will only breed resentment. But a feeling of equality is certainly needed.
your faithful servant
~Gríma
---
Dear Gríma,
I have a friend who LOVES Legolas and is really starting to annoy me. How do I cure her of this awful disease?
Wigless
My Dear Wigless,
I cannot tell you how glad I am some people are beginning to understand the seriousness of this most tragic illness.
Research into this malady suggests it is caused by repeated exposure to that obnoxiously attractive elf. However, once infection has set in, restricting exposure seems only to aggravate the symptoms, occasionally culminating in the writing of sappy fanfic, or, in worse cases, badly-rhymed and ill-metered love poetry.
Some have only a mild case, which they overcome in time without treatment. For chronic cases, the only certain cure is a change in the patient's sense of aesthetics.
How is this to be accomplished? The patient may benefit from a change of scenery. Expose her to other ideas of desirability, the greater in contrast to the elf the better. For instance, before she became my Webmistress, Fergo was infected with "Legolove" after her third viewing of the first War of the Ring documentary, The Fellowship of the Ring. She was cured when she stopped placing so much emphasis on grace, male prettiness, and pointy ears, instead coming to value subtle intelligence, endless devotion and pale, smooth hands with long, cold fingers.
your faithful servant
~Gríma
---
Dear Gríma,
The trouble is that I am in love with Aragorn AND Viggo Mortensen!! I can't decide which one is better! HELP ME!!!
Elf-princess-who-loves-aragorn/viggo-mortensen-whose name begins with A from Rivendell
My Dear Elf-princess,
You do seem quite distressed. May I offer you a sedative?
It is often helpful, in these instances, to examine the pros and cons of each fellow under consideration. Aragorn, being long dead and having gained mythical status, can never disappoint you with human failings. On the other hand -- he's long dead. In life he was steadfastly devoted to the historical Arwen; an admirable quality, unless you are anyone other than the historical Arwen. Even my darling, beauteous Éowyn was unable to turn his mind, which is the only reason I am able to speak of him with anything other than homicidal malice. Additionally, he had the hands of a healer and was the rightful king of Gondor, both of which are considerable pluses.
As for Viggo Mortensen, I am less well acquainted with him. I am told that in addition to being an actor, he is an accomplished artist and poet, attributes my Webmistress finds intriguing, at least. Mr. Mortensen is also known for being outspoken with his politics. I do not know if you personally would consider this a pro or a con, or whether you agree with his viewpoint. Unfortunately, I am unable to provide you with any information regarding any particular relationship he may currently have.
But I'm available.
your faithful servant
~Gríma
P.S.: It may seem incongruous that I speak of Aragorn as being "long dead" when I am recorded as having died in the same Age, and yet am advising you. You don't really want to know which laws of physics are being broken to bring you this column. Trust me.
---
Dear Gríma,
I really want to kill someone. What shall I do?
"Sauron" in New Zealand
My Dear "Sauron,"
Surely I am unfit to instruct the Dark Lord in the ways of slaughter? Also, the legal department advises me (ironically enough) that I am no longer allowed to encourage killing. But try scrolling down to my reply to "Evil in Ireland."
If you are seeking to avoid murder (your intent is not clear from the brevity of your question), your local social services agencies are better equipped to assist you, as it is not possible to assess your situation long-distance.
your faithful servant
~Gríma
---
Dearest Gríma,
I wish to learn the art of wizardry, but I don't know what to do. Can you help me, my beloved mentor?
wizard wannabe in the sandy dunes of Hawaii
My Dear Wizard Wannabe,
I see you have already learned that flattery can get you far in life! Understanding the power of words sets you solidly on your way. You may have noticed that there is very little "magic" of the "Harry Potter" or "Sabrina the Teenaged Witch" sort in the historical records of wizards in Middle-earth. Gandalf points out that Saruman's power is in his persuasive voice. The same could be said of Gandalf; he was ever giving advice, wanted or not. Now, using words to cause something to happen would fall under certain definitions of "magic"; indeed, my Webmistress Fergo tells me the word "spell" originally meant "story." (As in "gospel": "God's spell" = "God's story." Are you surprised a Tolkien fan should be interested in language origins? I wasn't, either.)
Unfortunately, one cannot become a wizard of the sort known in Middle-earth, for they were Maiar, angel-like beings of power assuming human form for convenience. Other lore suggests that divine selection and/or genetics are highly influential if not vital to being a wizard or wizard-like personage: Various mythic heroes across cultures are said to have been fathered by some sort of non-human entity, among them Merlin and Anakin Skywalker; Samantha of "Bewitched" and the aforementioned Sabrina and Harry were all born into wizardly families.
However, do not let this discourage you! For I and my entire family were, as some say, "muggles," and I achieved a great deal using, if not wizardry, something very close to it. The secret, my dear Wannabe, is all in persuasion. Develop your vocabulary, and dip all your words in honey. Present yourself as being beyond reproach. Be free with your compliments. Color every situation so that your listener believes what you want him to do is really what he wants to do. And above all else, remember: In this business, patience is not only a virtue, it is the virtue.
your dedicated master
~Gríma
---
Dear Gríma,
I have trouble talking to my friend, the hobbit from the rolling hills of colorado, because she makes many annoying references to lotr, but I am not as interested in lotr as she is. What should I do?
Ranger of the misty mountains
My Dear Ranger,
There are times when it is difficult to know where the line between appreciation and obsession lies. I do hope "Hobbit" will look into the resources I offered her before, and so have her fill of these histories, leaving her ready for other topics when she talks with you. Additionally, you might try introducing her to other hobbies, noting that you are not asking her to give up "The Lord of the Rings," merely that she might enjoy exploring other interests.
your faithful servant
~Gríma
---
Dear Gríma,
I have a friend who thinks she was born to be a hobbit. My friends and I try telling her that hobbits are imaginary creatures in a book, but she did not listen to our advice. What should I do???
A Troubled Non-Hobbit Friend
My Dear Non-Hobbit Friend,
I've noted in another reply that it is difficult, if not impossible, to be a hobbit when one is born human. It's tempting to romanticize other times and places, and it may be appealing to subscribe to the hobbit philosophy of peace, quiet and simplicity, but to actually lead a hobbit lifestyle is inadvisable, regardless of one's belief or disbelief in the creatures.
Take, for instance, the custom of six large and "hearty" meals a day. While an actual hobbit would thrive on such a diet, for humans of the modern age where obesity-related medical troubles are rampant, it could prove disastrous. Additionally, recent studies have found that smoking pipe-weed can lead to long-term illness. Furthermore, the cost of upkeep on a hobbit hole is prohibitively expensive these days.
Please bring these facts to your friend's attention. Perhaps they will help persuade her.
your faithful servant
~Gríma
---
Dear Gríma,
How far should I go to get rid of this acne?
Anon Y. from Mous
My Dear Anon,
The mistake many make is to treat their acne too aggressively. Alcohol-based cleansers and other harsh treatments often aggravate the condition. A regular regimen of cool water and gentle soap often work wonders; sometimes it is useful to supplement them with a topical ointment.
If over-the-counter medications are not working, see a qualified physician. However, steer clear of the dermatologists in Rohan. Their cure for everything is bleeding, which only made me paler still and did nothing for my acne, cold sores, eczema, dandruff and myriad other skin afflictions.
And under no condition do I advise you to seek the aid of a wizard. They promise the world but deliver only trouble.
your faithful servant
~Gríma
---
Dear Gríma,
I am swiftly losing friends because of my deep love of lotr,esp.hobbits.what should I do?
hobbit in the rolling hills of colorado
My Dear Hobbit,
I take it that you mean your friends are tired of hearing about your love of these fine books and the movies made in their image, rather than bearing any burning hatred of hobbits in particular. Pity. I could use some new recruits.
I can sympathize with your situation, as I would have swiftly lost friends due to my proclivity toward evil -- but then I never had any friends to begin with. Additionally, because I am a fictional character within the books and the movies, talking too much about them in "real world" terms could cause me to disappear in a puff of logic. So please forgive me if I defer this question to my able Webmistress, Fergo Baggins.
Fergo advises you that it is always helpful to have friends who share common interests. To this end, there are several Internet communities in which you may find hundreds of friends who are willing to participate with you in all manner of Lord of the Rings-related activities: chat, parodies, fanfic (whatever that may be). Fergo says if you take your fill of LotR with these groups, you will then be ready to turn your attention to non-LotR-related matters with your friends who are not fans.
Fergo also has provided you with a list of places where the folks are especially friendly: BillyBoyd.net, The Loony Bin and The One Ring.net (also known as TORn). Two forums she is less familiar with, but believes are worth looking into, are The Council of Elrond and The Barrow Downs.
I, Gríma, am personally most touched by these communities: Gríma Wormtongue Misunderstood and The Gríma Wormtongue Yahoo Group. At last, someone loves me!
Ahem.
your faithful servant
~Gríma
---
Dear Gríma,
Where can I sign up to become a hobbit?
Munchkin from Oz
My Dear Munchkin,
I'm afraid I must tell you that one cannot sign up to become a hobbit. To gain hobbitude, one must be a hobbit. One must plumb the depths of the soul to make contact with the hobbitness within, spending countless serene hours pondering the depths of hobbit philosophy, contemplating the earthy essence of the hobbit home and hearth as well as the deeper spiritual significance of taters. One might spend a lifetime in the pursuit of true hobbitness and never fully hobbitify.
In the long run, you'd be better off casting your lot with the minions of evil. I would be happy to personally instruct you.
your faithful servant
~Gríma
---
Dear Gríma,
I have a strong will to kill this one telemarketer.
Evil in Ireland
My Dear Evil,
There are many options available to you. If you are inclined toward subtlety, Saruman offers a wide variety of poisons. However, if you wish this killing to make a statement to telemarketers in general and do not mind facing legal repercussions, I recommend stabbing in front of many witnesses, if possible hobbits, because being a simple folk they are more easily shocked.
Now, if creativity is your goal, you might want to visit this site: The Morbid Fact du Jour. It is a veritable treasure trove of gruesome ways to die. (Not a site for the squeamish, or for those who've just eaten. Unless, of course, they've just eaten hobbit, in which case they have proven themselves strong of stomach.)
If you are feeling especially patient, however, there is another wonderful way to be revenged against this telemarketer that does not involve a felony crime. Additionally, it is more convenient than tracking down said telemarketer. Find yourself a copy of Developing Your Silver Tongue. Practice the lessons contained therein until you have mastered the art of uncanny persuasion. The next time the telemarketer phones, use your new skill to overwhelm him (or her) with your will, breaking their spirit and driving them to premature old age. Then you will be able to command your victim to do your bidding, which can be marvelously entertaining at parties.
your faithful servant
~Gríma
---
Dear Gríma,
I'm tired of being ignored and feeling yucky because I'm fat. It doesn't help that my sister is so slender and cute, and it comes so easy to her. Dieting I can handle, but exercise is getting to be such a chore that it just doesn't seem worth it anymore. What can I do?
Frustrated in the USA
My Dear Frustrated,
What you need to do is find a form of exercise that you enjoy, so that you don't even think of it as work. Have you considered becoming a shield maiden? Éowyn is passionate about it. That's how she stays in such great shape, and there are plenty of men who take notice of her. Trust me. I pay attention to these things.
your faithful servant
~Gríma
---
Dear Gríma,
My father claims that he has nothing personal against my fiancé, but wants me to break up with him because he believes our racial differences are insurmountable (he's a human, I'm an elf). I know dad just doesn't want me to be hurt, but how can I make him understand that I know what I'm doing?
Lovesick Elfchick in Rivendell
My Dear Elfchick,
I must say that I sympathize. What's a few thousand years age difference when you're in love? You must show your father that you are an all-around responsible and well-considered young elf. This will help him see that you are mature enough to make your own decisions. Also, remind him that, even though you may share the Doom of Men while he sails to the Undying Lands, you will always be Daddy's Girl. Try watching Steve Martin's "Father of the Bride" with him. In the meantime, be grateful that your love is requited.
Wait -- your human fiancé wouldn't happen to be Aragorn son of Arathorn, would he? If so, I suggest you convince him to elope without delay. I hear the Misty Mountains are nice this time of year.
your faithful servant
~Gríma
---
Gríma receives your letters through this site courtesy of